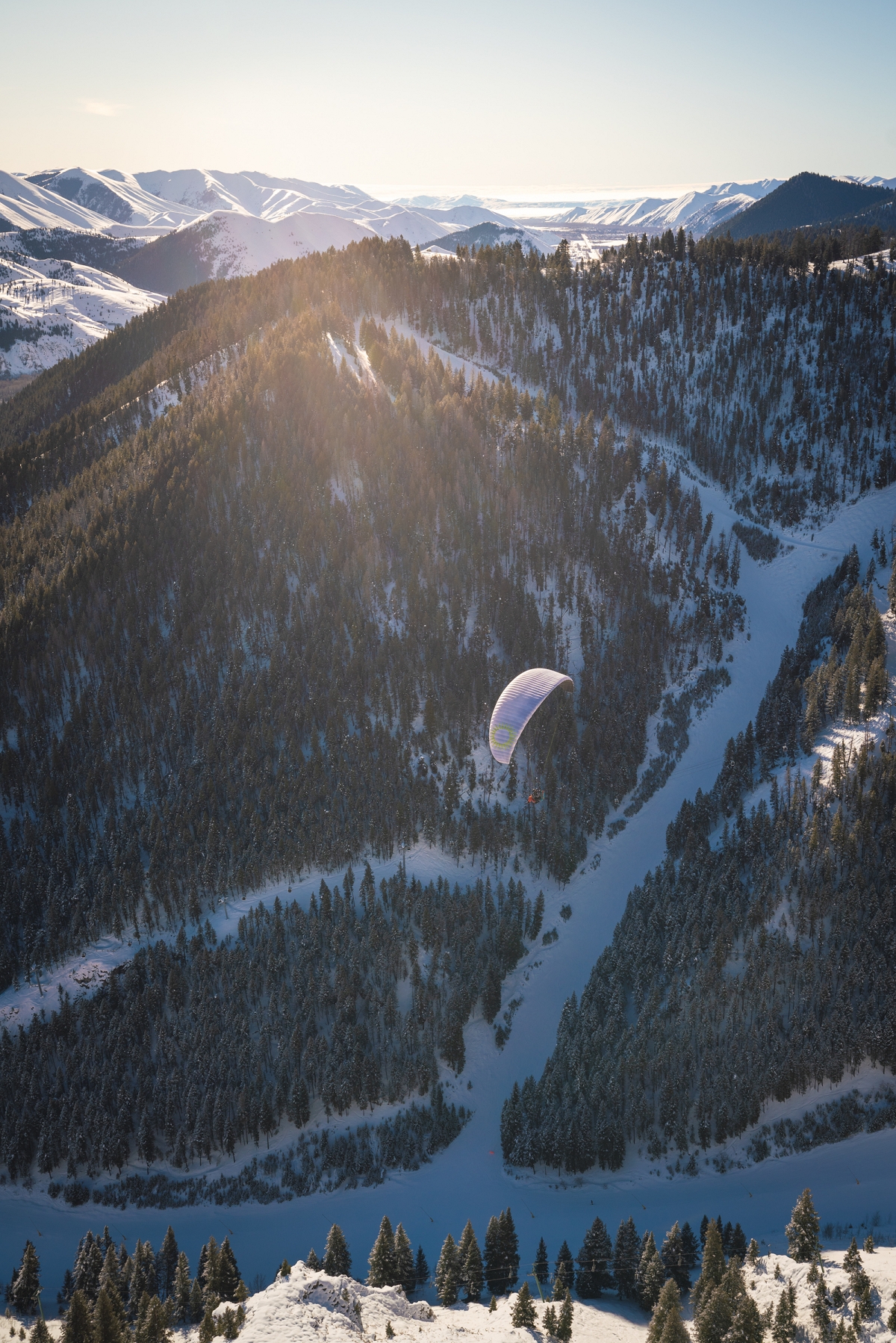 This post was produced in partnership with Visit Sun Valley and Travel Mindset.
I've always been a bit of an adrenaline junky. 
Call it the inevitable outcome of a kid raised climbing mountains and hurtling down them on skis. My 18th and 25th birthdays were both celebrated by jumping out of an airplane, and I got my SCUBA certification only a few years later. I've climbed 20,000' tall mountains and stared a wild polar bear in the face. To me, adrenaline is fun. Somehow, throughout all that adventure, I never made my way around to paragliding. There's no good excuse as to why - I always thought it looked amazing, and I would frequently see paragliders soaring above the neighborhoods near where I was raised. Somehow, I just never got around to it. 
Visiting Sun Valley was a treat all on it's own (more about that here), but when I heard there was a company that flies paragliders from the top of the ski resort and that we were signed up for a flight, I could barely contain my excitement! The morning of was filled with trepidation: how high would we soar? How cold would it be? Should I bring a camera or is that a terrible idea? Thankfully our guides were exceptionally professional and assuaged my fears within 5 minutes of meeting in the lobby. 
After a safety rundown and some waiver-signing we all boarded the gondola and headed to the top. Boarding a chairlift with street shoes on was perhaps the most foreign feeling I've had in years, but the excitement bubbling within overshadowed any doubts. I felt a bit useless as our guides carefully unfurled the canopies and organized the flight lines. This is highly specialized work, and there's no way for a newcomer to be of assistance, so despite my eagerness to help I was most useful standing uphill and deterring unaware skiers from heading our direction.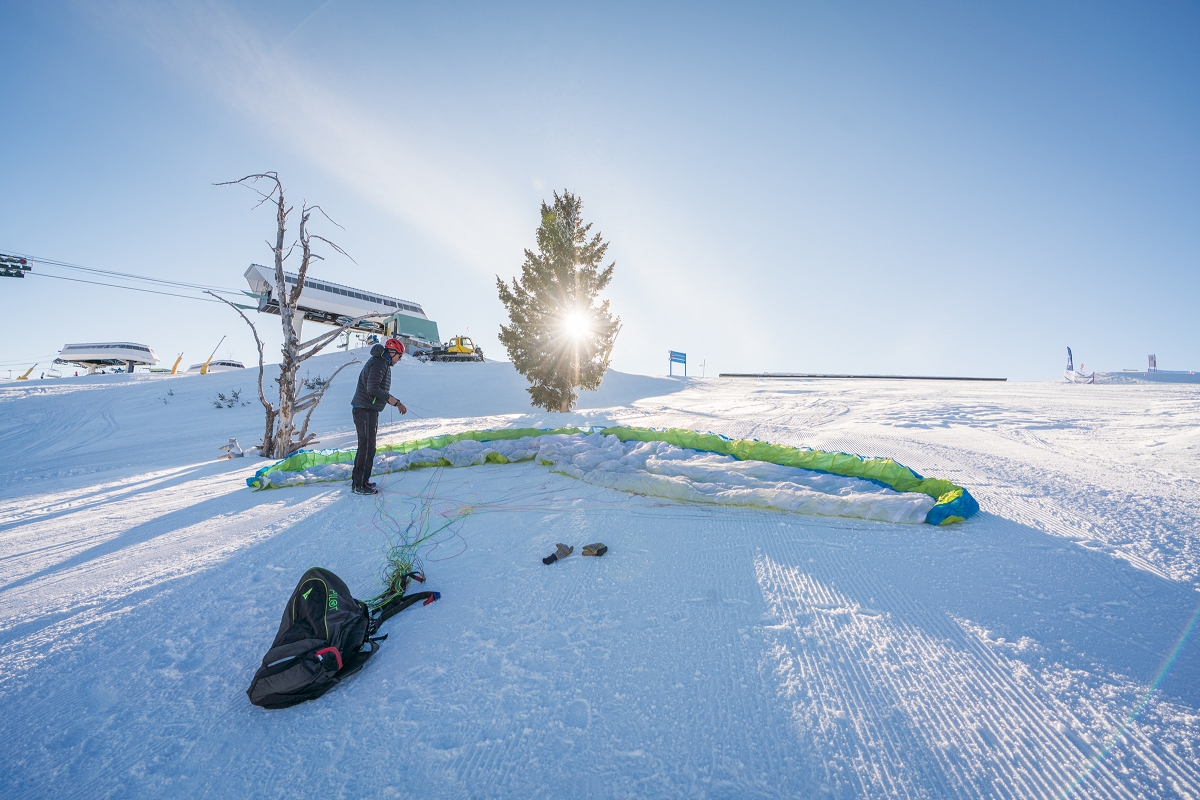 Finally, the time was neigh and we sprinted down the snowy slope. A lifetime of skiing prepared me for the feeling of accelerating down a ski run, but nothing I've ever experienced prepared me for the feeling of sudden lift-off. We gently cruised above the run for a couple dozen feet, floating as if this was the softest powder day of my life. Then, the wind caught our sail and up we lifted, flying high above the trees, above the chairlifts, and before long we were the highest point in the valley. The wind was brisk, but tolerable: a small price to pay for the exuberant freedom of unpowered flight. All my concerns and questions melted away as I was overtaken my the peacefulness of the experience. No engine means silence - a fully immersive experience soaring above the mountaintops. The tranquility of wilderness has always been my favorite part of exploring the outdoors, and this was a tenfold experience of that pleasure. Although I'll never know the joy of birds flying under their own power, this is surely as close as a human can get. 
The birds-eye-view of the ski runs below was fascinating. It felt like looking at a trail map, but an animated one. Tiny skiers carved slalom turns below us, and hungry diners scurried in and out of the lodges at the top of the lifts. I could see the hidden powder stash in the trees that I had discovered the day before, and several more that I hadn't. Having studied dozens upon dozens of ski area trail maps in my life, seeing the overhead view of a ski resort in person, with my own eyes, was an unforgettable experience.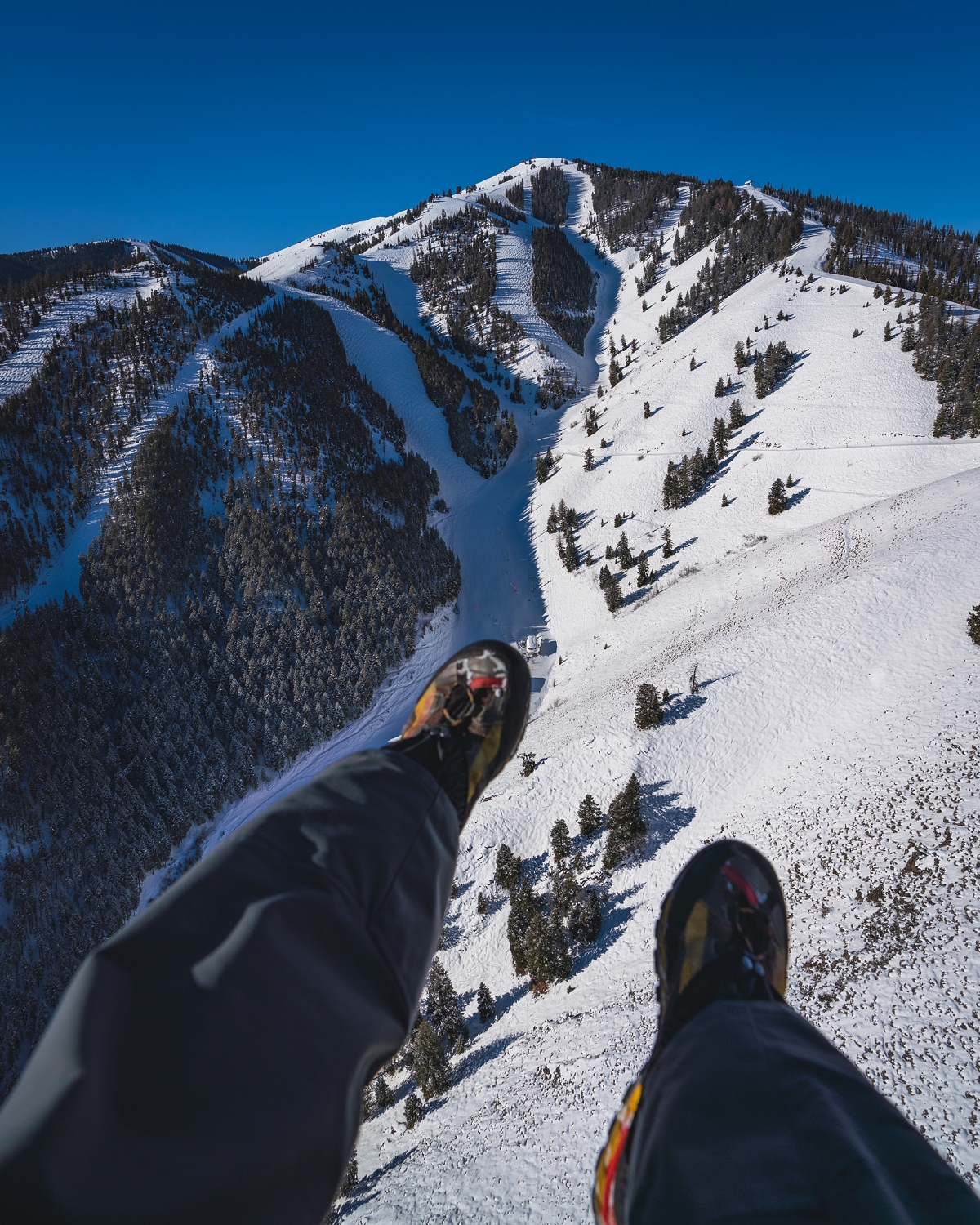 There was no perceptible sensation of "falling" during the flight, but unfortunately we were slowly descending and the ride had to come to an end. A giant snow-filled parking lot provided the perfect soft option for us, and after a few airborne zig-zags and spirals we came in for a landing. I'll own up and admit that my tandem instructor told me to use my feet and run, but I got so caught up in the excitement that I literally forgot I had legs and we came in sliding on our butts. Thankfully, it's a low-risk game when you're landing on fresh snow and there were no repercussions for my oversight, and all ended well! A truly unforgettable experience, and a (literal) high that I'll be chasing again, guaranteed. 


Huge thanks to Fly Sun Valley for having me up on this gorgeous day!